VIRTUAL EFORT CONGRESS - VEC 2020 EXHIBITORS & SPONSORS
The VEC 2020 Virtual Exhibition is open from Wednesday October 28 at 7.30 AM CET
To access to it you will need to be registered and/or logged in via VEC Congress Website. Only registered participants to the VEC and exhibitors with a valid congress registration will be able to access the exhibition area.
For all commercial and investment, opportunities or discussions relating to the current or forthcoming EFORT annual congresses then in the first instance please contact alan.cole@efort.org
Please also check back this page regularly for updates and news of additional sponsorship opportunities.
Nested Applications
VIRTUAL EFORT CONGRESS - VEC 2020 EXHIBITORS & SPONSORS
VEC Exhibition Opening Hours
There are no mandatory exhibition hours as it is open for delegates 24/7.
Nevertheless, the best moment to visit and ensure you will get interactive contact within exhibitors and visitors, we recommend the following time to visit:
28 October 28 2020 > 08.00-17.00 CET
29 October 2020 > 08.00-17.00 CET
30 October 2020 > 08.00-17.00 CET
The exhibition will remain open until the 03 December 2020.
TECHNICAL MANUAL & ORDER FORM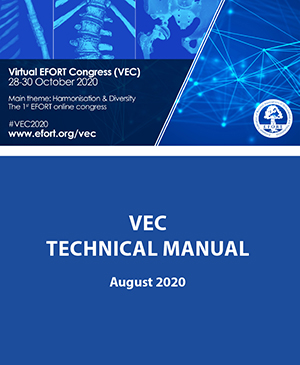 VEC 2020 Technical Manual
PDF document | 10 pages | 580kb

VEC 2020 Terms & Conditions
PDF document | 6 pages | 390kb

VEC Sponsorship Order Form
Interactive PDF form | 2 pages | 250kb
Please download it to fill it!

VEC Sponsorship Packages
PDF document | 4 pages | 650kb

Applications for all congress activities must be submitted by SPONSOR under whose name each activity is to be organised.
IMPORTANT: submission of this form is entering into a legally binding contract with EFORT – see below.
The Sponsorship agreement between the SPONSOR (or an agency acting on its behalf) and EFORT, consists of:
By signing the VEC Application Form, the SPONSOR accepts the VEC Sponsorship Agreement, including any and all conditions contained in the enclosed GTC and in the EFORT VEC 2020 Sponsorship packages documentation. The parties may deviate from VEC Sponsorship Agreement, including the GTC, by written agreement only. Please read the full VEC terms and conditions.